Forum for Growth and Innovation
As a Harvard Business School research center, the Forum for Growth and Innovation seeks to develop breakthrough theories to help businesses become more successful innovators and create new, robust sources of growth.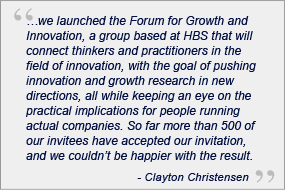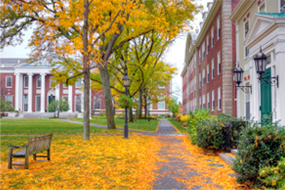 The Forum for Growth and Innovation is a research initiative funded by the Harvard Business School and guided by Professor Clayton Christensen. The goal of the Forum is to discover, develop and disseminate robust, accessible theory in the areas of innovation and general management.  Its research activities seek to develop actionable, prescriptive theory that can guide general managers in the decisions they must make, re-invigorating general management research by following a proven research process, refining it through collaboration with practitioners, and then distributing it to a broad audience  In pursuit of these goals, the Forum both hosts conferences to bring together academic experts, leading practitioners, and Harvard Business School alumni to develop current ideas and engages in extensive publishing activities.  Recent conferences have focused on the Forum's emerging research on mergers and acquisitions, as well as new approaches to and theories for investment strategy.
Each year, the Forum invites a few highly qualified MBA graduates to engage in a yearlong fellowship program. The Fellows collaborate with Professor Christensen on theory development intended for publication in The Harvard Business Review and in other leading business journals.